Buying the Best Carport – A Short Guide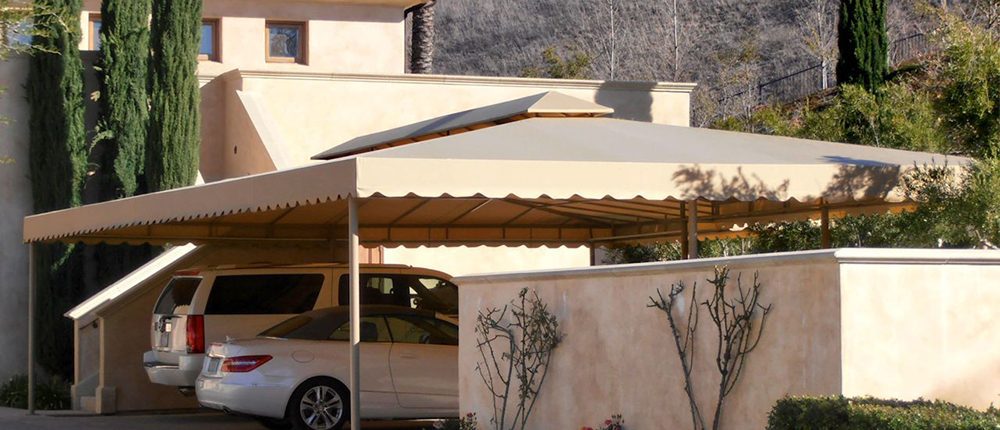 A carport is one way of protecting your vehicle from harsh weather and other conditions that may damage it. Carports can range from simply canopies with stabilizers to long lasting, steel covered, fully installed ones. However, they all have the same basic purpose of protecting your vehicle.
What to look for when buying a Carport
There are many different carport manufacturers in the market that sell carports with different features and price ranges. However, there are a number of factors you must consider when buying a carport.
1. Size: Carports come in various sizes. As such, it is important that you buy one that fits your requirements and is not too small for your vehicle. You can also buy a carport that fits two vehicles.
2. Assembly: Certain carports require professionals for installation. This can be expensive and stressful. You should try to buy a carport that has pre-cut and pre-drilled parts for easy installation that you can do yourself.
3. Price: You should do some window shopping to figure out what the options are within your budget. Doing so will help you purchase a carport with the best features in your preferred price range.
4. Frames: You must look for a carport that comes with rust and corrosion resistant frames made of galvanized steel. A strong frame is essential for a carport that will last long and withstand aggressive winds.
5. Cover Material: It is important to go for a carport that is made up of a durable material like polyethylene or polycarbonate. If you live in an area with a lot of snow fall, you should look for a carport with from steel. Keep in mind that even the strongest carport is likely to bend and may collapse under extreme weather.
Best Carport Reviews
The top 5 carports of 2017, along with their manufacturer, features, pros and cons are listed below.
Rating
Model
Manufacturer
Features
Pros
Cons
1
Eagle, All Steel, Carport Cover 18' x 21' x 6'
Eagle Carports: A U.S. based company that sells car shades and garages
• Maxi-rib 29- gauge horizontal, roof
• 2 ½ inch square tubing
• 14-gauge steel frames
• Measures 18' x 21'
• Made of durable, steel frames and heavy-duty roof panels
• Can accommodate two cars
• Extended 20-year limited warranty
• Can be customized
• Takes up a lot of space
• No sidewalls
2
King Canopy HC1020PC Hercules 10 by 20 Ft. Carport
King Canopy: Founded in 1940, the company is famous for its quality garages and canopies, event booths, umbrellas and other products.
• Patented cover design
• 2-inch powder-coated frames
• 8 stabilizers
• UV Inhibitors
• Fire Retardant
• Water Resistant
• Measures 10 x 20 ft.
• Unique A-Frame design that provides improved stability
• Multi-purpose
• Easy installation
• Spacious enough to store an average car along with some gardening equipment
• Only 1-year limited warranty
• No sidewalls
3
Abba Patio APGP36PEB 10 X 20 ft. Heavy Duty Carport with Sidewalls
Abba Patio: The company is known to sell high-quality and affordable gardening and backyard products including outdoor umbrellas, patio furniture, gazebos and canopies.
• 210 g beige Polyethylene cover
• Two front-zipped flaps
• Powder-coated steel frames
• 8 stabilizers
• Measures 10 x 20 x 9.4 ft.
• Easy set-up
• Can be placed anywhere
• Rust and corrosion-free steel frames
• Has sidewalls
• Highly versatile
• Gets overpowered by strong winds
4
ShelterLogic AutoShelter 626800 – 10 x 20 ft. Instant Garage
ShelterLogic: ShelterLogic has been in the market for more than 50 years and has established itself as a brand that manufacturers durable shades, shelthers and other storage products.
• Ratchet Title cover tensioning system
• Easy slide cross rail system
• Patented ShelterLock stabilizers
• One double zippered doors, 1 rear end panel
• Measured 10 x 20 x 8 ft.
• High-quality Triple-layer polyethylene cover
• Strong stabilizers
• High-quality, 1 – 3/8 in./3,1 cm all-steel frames
• Anti-fade, anti-aging and waterproof cover
• Tight and neat outline
• Has sidewalls
• Easy installation
• Expensive
• Only one-year manufacturer's warranty
5
Palram HG9100 Arcadia 5000 – 16 x 12 ft. Metal Carport Kit
Palram: Palram produces a wide range of products from building materials to specialty products, all of which are designed and engineered carefully, using the latest technologies.
• Integrated gutters
• Anchoring and foot pads
• Measures 12 x 16.5 ft.
• Six strong stabilizers
• Aluminium and galvanized steel frames
• Multi-purpose (can be used as a carport or a patio cover)
• UV resistant, 6 mm polycarbonate cover
• Rust and corrosion resistant frames
• Easy assembly
• Easily movable
• Extended warranty
• Maintenance-free
• No sidewalls
• Small size
• Ten years warranty is less compared to some other carports that come with a warranty of up to 20 years
• Slightly pricey as compared to the other options in this list